As long as BIAAP is there, you are never alone. Call us immediately if you believe you are the victim of domestic violence.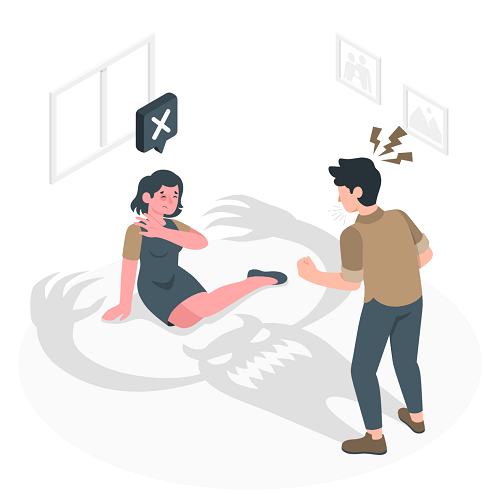 Domestic Violence, Injunctions, and Emergency Remedies
You are not powerless. If you are the victim of domestic violence, BIAAP will always stand by you and guide you towards ensuring that your life and the lives of your children (if any) gets back on track as soon as possible.
No form of Domestic Abuse is acceptable in any situation. Always remember #YouAreNotAlone – there are many options for you to seek help.
Overview:
As an individual you have every right to seek assistance if you are facing the injustice of Domestic Violence or Domestic Abuse. We at BIAAP would be able to assist you with any and all legal tools required, so that you feel empowered and can move forward with your life.
Domestic Violence can take many forms, including:
Sexual violence such as rape or forcing someone to perform sexual acts they are not comfortable with
Pushing, punching, shoving, hitting and other acts of unwanted physical force
Controlling, coercive behaviour, for example, isolating a person from family and friends, putting them down, refusing to allow them access to money, controlling what the wear and who they see
Stalking and harassment
Additional Information:
Please continue reading so you are best informed with understanding and dealing with your situation. Alternatively, please call us at BIAAP, we are always ready to represent you.
Recognising Domestic Abuse
Does your partner, ex-partner, or someone you live with:
Cut you off from family and friends and intentionally isolate you?
Bully, threaten, or control you?
Take control of your finances?
Monitor or limit your use of technology?
Physically and/or sexually abuse you?
Domestic Abuse is not always physical violence. It can also include:
Coercive control and 'gaslighting'
Economic abuse
Online abuse
Threats and intimidation
Emotional abuse
Sexual abuse
Note: Anyone can be a victim of domestic abuse, regardless of gender, age, ethnicity, religion, socio-economic status, sexuality, or background.
If you believe that you are a victim of Domestic Abuse, there are signs that you can look out for including:
Being withdrawn, or being isolated from your family and friends
Having bruises, burns or bite marks on you
Having your finances controlled, or not being given enough to buy food, medication or pay bills
Not being allowed to leave your house, or stopped from going to college or work
Having your internet or social media use monitored, or someone else reading your texts, emails, or letters
Being repeatedly belittled, put down or told you are worthless
Being pressured into sex or sexual contact
Being told that abuse is your fault, or that you're overreacting
Your Safety First – How the Law can protect victims of Domestic Abuse
If you are or have been the victim of Domestic Abuse, you can apply to the court for an injunction to protect you and your children.
The most common type of mandatory injunction in domestic violence and abuse cases is a Non-Molestation Order and/or an Occupation Order.
A Non-Molestation Order is designed to protect you from actual or threatened physical violence from your abuser. Your abuser will also be banned from stalking or pestering you. The protection offered by a Non-Molestation Order against domestic violence can also be extended to your children.
An Occupation Order may give you the right to occupy the property you shared with your abuser and restrict or prevent your abuser from entering the home.
To apply for a Non-Molestation Order or an Occupation Order, there is an element known as "associated person."

This means you and the person must be related or associated. The criteria are as follows:
Are or were ever married or engaged to be married
Are or were ever in a civil partnership or had agreed to form a civil partnership
Are or were living together (this includes same-sex and opposite-sex couples)
Live or have lived in the same household, for example as a flat share (but not as a tenant, boarder, lodger, or employee)
Are relatives, including parents, children, grandparents, grandchildren, siblings, uncles, aunts, nieces, nephews or first cousins (whether by blood, marriage, civil partnership, or cohabitation)
Have a child together
Have or had parental responsibility for the same child
Are parties to the same family proceedings for the same child
Are or were in an intimate personal relationship of significant duration
Note: To apply for an Occupation Order, you must have a legal right to live in the home
Application and Process Guidance:
Applications for Non-Molestation and/or Occupation Orders can be made either with or without the respondent's knowledge. This is known as ex-parte or on notice.
If you are in immediate danger, an application made ex-parte can provide protection more quickly than if the application were made on notice.
However, if an ex-parte application order is granted, it will only take effect after the respondent receives it.
A court hearing date with both parties' present will be set. This is known as a return date, and it is to allow the respondent to raise a defence against the order being made.
It is less common for an Occupation Order to be made ex-parte. An occupation order restricts a co-owner's proprietary rights and is only a remedy of last resort.
The Courts will normally make the hearing of Non-Molestation and Occupation Orders a priority; hearings are normally held within a few days.
These are complex legal issues and we always advice present and potential clients to always seek the counsel of an experienced family lawyer.
Penalties for breach of a Non-Molestation or Occupation Order
It is a criminal offence to breach a Non-Molestation Order and can lead to up to five years in prison. Breaching an Occupation Order is not a criminal offence; however, the court can attach a power to arrest when granting the order.
If you believe your Non-Molestation or Occupation Order has been breached, it is best to call the police immediately.
After contacting the police, you can also consider contacting us, in case you feel that there is a need to have an injunction order to enforce.
Why BIAAP?
If you have been a victim of Domestic Abuse this can be a highly emotional and extremely sensitive situation for you to navigate and overcome.
We also understand that taking legal action is difficult especially as you may also have an emotional relationship with the person who is your abuser. However, if you are the victim there is no reason in the eyes of the law for you to not act.
Mrs. Olagbaiye (Founder and Director of BIAAP), is an empower women leader, who feel very strongly about helping people in this situation. As a mother and a self-made woman and an active individual in the community, she is well placed and qualified to guide you, no matter what your particular circumstances.
This website is for informational purposes only and does not contain legal advice. As the law is subject to changes and updates, please do not act and/or refrain from acting based on anything you read on this site. Always seek legal assistance when required from a accredited and practicing professional i.e. solicitors. BIAAP (Brightway Immigration and Asylum Practitioners) is subject to and upholds the laws of the United Kingdom and adheres to the code of conduct required by our profession.